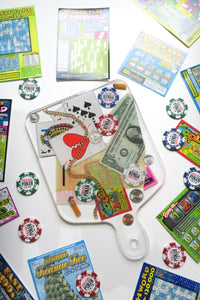 Handmade resin charcuterie board with money, cards, and all sorts of gambling goods floating inside. Cool piece for any kitchen! 
-Handmade in RI , USA

- Has slight imperfections, (don't we all? jk )minor bubbles, nothing very noticeable )
- Ready to ship!
- Wash with a mild soap / wipe with cold water 
Any questions feel free to message me at wildworldofak@gmail.com!